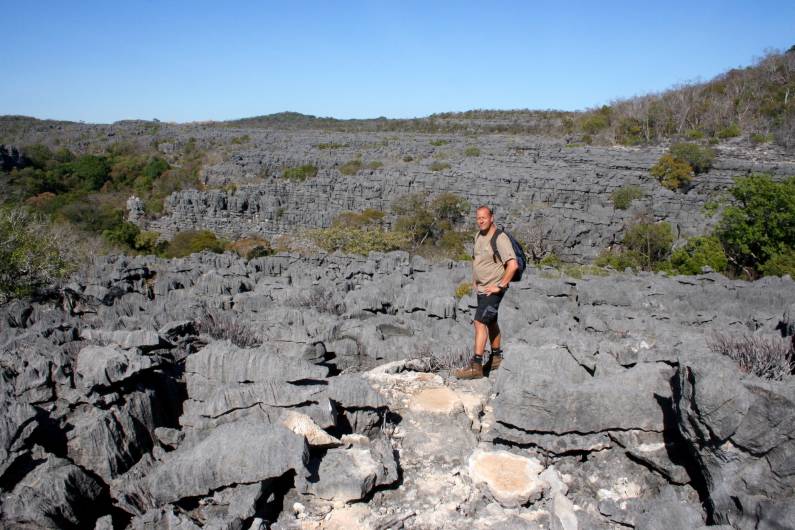 MADAGASCAR 2006
MY FIRST TRIP TO MADAGASCAR
In June 2006 I went on my first trip to Madagascar for 2 ½ month, a country I had my eyes on for a long time. My plan was to cover the east, north and some Islands in the northwest corner of Madagascar. Even all my research could never have prepared me for this adventure. How little did I know. Madagascar would come to play a major part of the rest of my life.
THE EIGHT CONTINENT
Madagascar the size of France and the forth largest Island in the world. Around 21 million people live here. Official language is Malagasy and France. Ethnicity: indigenous beliefs 52 %, Christian 41 % and Muslim 7 %. The first people came from Borneo in canoes 350 BC, later on from Mozambique. Then the Arabs with slaves from west Africa, Indians and at last the French occupation in 1897- 1960. Today Madagascar are independent republic. Madagascar is often referred as the eight continent, due to the difference compared to the rest of the world. Madagascar broke away from Africa about 88 million years ago, and life here has evolved surprisingly different than the rest of the world. It is like nothing you have seen before. Approximately 90 % of all species, animals and plants are endemic, only in Madagascar, and 5 % off all species on earth lives here.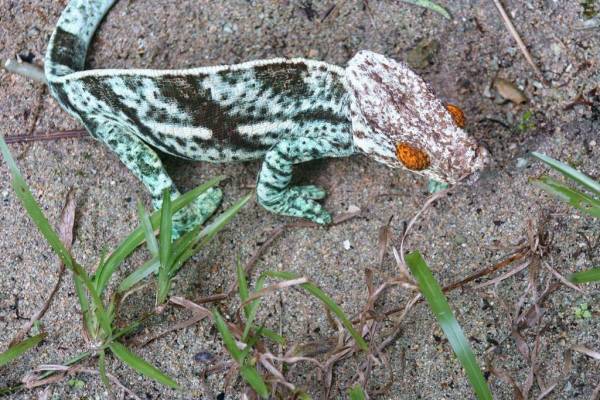 Madagascar is the dream destination for nature lovers and adventures people. With animal like the Lemurs, Chameleons, the Eye-Eye, Flying Foxes and the rare elusive Fossa, just to mention a few. With Spiny Forrest, The Thingy-Thinghy canyons, Baobab trees and more. Mountains, lakes, pristine jungle, amazing waterfalls, Palm-lined white sand beaches and Paradise- like Islands. MADAGASCAR has is all … BUT NOTHING COMES EASY. I came to the capital Antarnanarivo. My backpack was not on the plane, and arrived four days later. I had booked a flight to Ile Saint Marie 5 days later, so just enough time to get my luggage.
THE CAPITAL
Antananarivo or Tana the capital of Madagascar and home to 2 million people. Tana is located 1276 meters above see level in the central Madagascar. It is the political, economic, educational and cultural heart of Madagascar. Tana is also where you find the best nightclubs, bars and restaurants. Eating in Tana is world class with the influence from the French kitchen.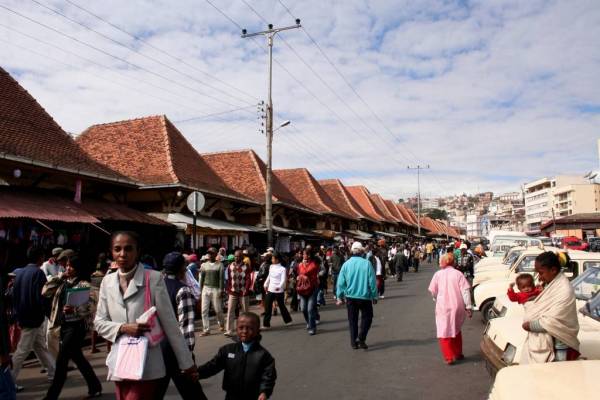 Tanas top Tourist attractions is Rova, the Manjakamiadana ( A Fine Place to Rule ) at the top of the highest hill. The Museè Andafivaratra with the history from the time of the Merina Kings. Parc de Tsarasaotra located in the industrial area of Tana, famous wetlands with endangered birds. Also the Presidential Palace is a must. Well I had 5 days and no luggage. My backpack was stocked in Paris, and Air France told me it would take 4 days before it arrived in Tana. After buying some necessities I decided to take a good look at the city. Tana surprised me in a nice way. Besides all the tourist attraction there was a nice marked, and olso all the barber shops around the lake is fun. Another attraction is the zoo Tsimbazaza zoo where you can see the remain skeletons of the giant lemurs and the elephant bird. Only a couple of hundred years ago there were Lemurs the size of a man and the largest bird on earth. You can still find the eggshells from the Elephant bird in the far south of Madagascar. And depending on how much time you have in Madagascar, this is your chance to see many different Lemurs, The rare Fossa, strange Chameleons and the mystery Aye-aye. Take your time in Tana, yes a big city with the worst traffic, but also a great city to visit. Just before leaving Tana I was told, that I could save a lot of money, by exchange money on the alternative marked. I was traveling with cash 5,000 Euro. After my bankruptcy in 1989 I havn`t been able to get a credit card, and the tax government in Denmark had access to my account. My only option to save money, was not to put my money to the bank. Sometimes I had to work on the black marked to get money for my travelling. I did painting jobs, carpeting jobs and cleaning jobs besides my work. But no credit card so every time I travel, it was a big risk due to a lot of cash on the road. Well a local guy showed me where to go for change. A very bad Idea, I changed 1000,- Euro and got millions, suddenly my problem was to carry all this money.
JUMPING GIANTS
Now with my luggage back, ready for new adventures, I went by plane from Tana to the island Ile Saint Marie on the east coast of Madagascar. Ile Saint Marie is a tropical paradise with beautiful beaches and only 49 kilometers long. It is famous for pirates history, and very popular for whale-watching. When we start descending, you could actually see the many humpback whales on the surfers. Saint Marie is known to be one of the best places in the world to encounter the whales. I had booked a bungalow at La Crique located on a very nice beach, a little idylic paradise with only very few tourist. Le Crique is located north of the only town on the Island Ambodifoatra.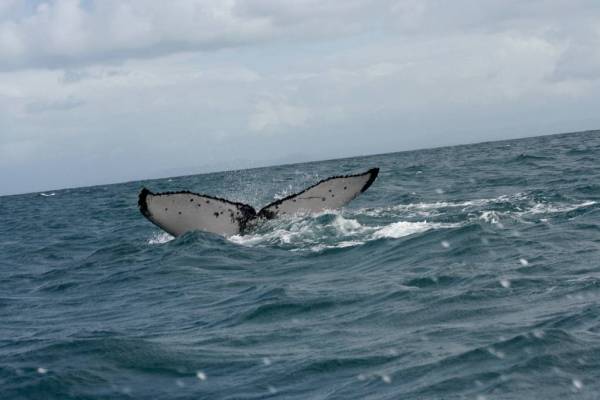 I arrived in the afternoon and after setteling in my bungalow, I was introduced to the other gusts on the hotel. There were a couple from USA, a family from Mauritius and a couple from French and me. It was like being a part of a family. In the evening we all dinned together and enjoy the beautiful sunset. Next morning it was all about the whales. The hotel has there own speedboat, and they sail out every time we spotted whales. It is a a fantastic spectacle to see them jump out of the water full size.
PIRATES AND TREASURE ISLANDS
Again in the evening dinner together with the other couples, and the food at La Crique was first class. Second day I relaxed at the beautiful beach. Third day I went diving with a Frenchman, who had a little dive company. He picked me up early morning, and we sailed out. I had 3 very nice dives that day, but especially the last dive was strange. We wend down to around 20 meters, and suddenly we could hear the humpback whales singing. Because of bad visibility, we could not see them, very frustrating. We were only the two of us, and when we reached the surfers, the assistant told us, that we were totally surrounded by whales, and that he was sure we had seen them. One of my biggest dream is to see them while diving, Well close but no cigar. Third day I went to see some of the Islands attractions. I was accompanied by the American couple. First stop Ambodifoatra for sightseeing and lunch, next the graveyard famous for Captain Kidd been buried here at the cemetery ( St. Mary`Island ). Ile Saint Marie was the absolute base for Pirates of the Indian Ocean. In year 2000 divers found his ship the Adventure, but most of his treasure has never been found. Next to the cemetery there is an impressive church where we made a stop on the way back.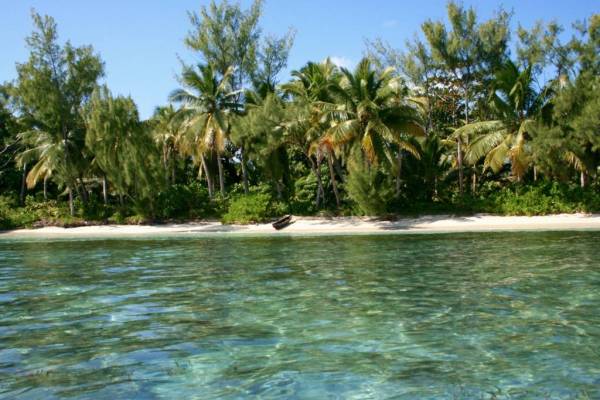 The forth day again in the presence of my American friends, a trip to the south end of the Island and 5-10 minutes sailing to the breathtaking beautiful small Island Ile Aux Nattes or simply Nosy Nato. Ile Aux Nattes is the perfect getaway with small simple guesthouses and sheep restaurants. You can explore the Island in less than 3 hours. We had some nice see food food and vanilla rum, and enjoyed the perfect beach. In the evening everybody from the hotel, went to a nearby restaurant for fancy dinner and access to a television. It was the day of the final in the world soccer championship, France against Italy. The food was amazing, but in the start of second half, we lost electricity, so we did not get to see the finish of the game. Italy won. The fifth day I said goodbye to all my friends and took a taxi to Ambodifaotra. I needed some bar life and music. I found a small cosy hotel in center, and the married Malagasy woman working there flirted with me a lot. It is not much of a town, but i liked it, and in the evening I went to a bar in the city center. Here I mat a very beautiful local woman, and after a lot of beer she became my lover. Malagasy women are incredible beautiful, they are creoles, a mix of African, Indian, Asia and European. Next day I visit a small lemur park. I was the only guest so they let me stay in the cage with some of the friendly lemurs. I had a a very funny experience with a small lemur in a cage.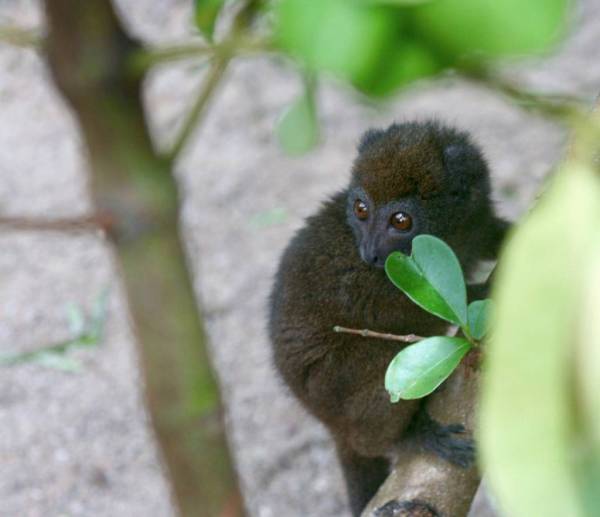 The lemur jumped to my shoulder and talked to my ear, and every time I turned it jumped to the other shoulder. I thing the lemur was lonely, and needed some company. I stayed in Abodifoatra for 5 days for relaxation, food, beer and my new girlfriend. But all good things comes to an end.Now it was time to new adventures. I sailed from Saint Marie to Soanierana-Ivongo, and what a trip. Tree times humpback whales jumped out the water maybe 50 meters from the boat, awesome. Besides of the jumping whales it was a though sailing. Big waves and a lot wind made the sailing very uncomfortable. Boat goes down in this part of Madagascar every year, and I was the only foreigner.
THE WILD VANILA COAST
The vanila coast or the Sava region is where you find the finest vanilla in Madagascar, and also some of the best nature parks in all of Madagascar. The vanilla coast goes from Antsiranana in the north and down to Antalaha in the east. It is rough and difficult travelling, The roads often get over flooded, a lot of rain and cyclones makes it quit difficult. My plan was to explore some of the most remote and challenging part of Madagascar. I had decided to start south of Soanierana-Ivongo, and back- track to Soanierana-Ivongo, then 4x4 up north to Masoala Peninsula and the Island Nosy Mangabe. So i took a taxi-brousse to Toamasina, and stayed the night there. Next morning up early and on to the national park Parc National Dàndasibe-Matadia. 6 hours later I was in Andasibe, a cosy little town. I found a small hotel, and they helped me organize a tour to the park next day. The park is stunning with primary Forrest studded with lakes and a unique wildlife. But the absolute highlight is to see the Indris, and hear the eerie wailing cry in the misty morning.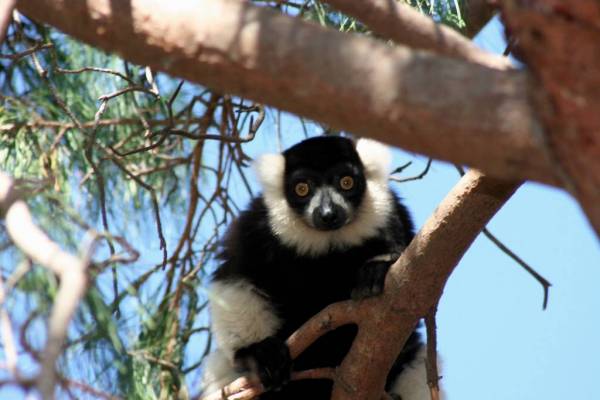 The Indries often described as looking like a small child in a Panda costume. And one of the best places to explore this, are Parc National Dàndasibe- Mantadia. So again next morning up early and a short drive to the park entrance. I had a guide all day, and he was excellent. I had a fantastic day with indris and a lot of lemurs and chameleons,,, but it was the rainy season, so I also had the dubious pleasure of leeches. After one more night in Andasibe I got on a taxi- brousse back to Toamasina. Toamasina meaning salty, is the capital of the Atsinanana region located at the east coast. It is a nice city with wide avenues, typically colonial stile. There is a lot of hotels, bars and French-style restaurants. The beaches around are really beautiful,,, but be careful,,,A LOT OF SHARKS. Olso the local marked is a must, for spices and handicrafts. I needed a rest, and decided to stay here for 3 nights. The next day I went to the Bazary Be ( the big marked ) just strolling around until lunch. After lunch I jumped on a pousse-pousse (Rickshaw ) for sightseeing around the city. The Pousse-pousse ( rickshaw ) is like a taxi, but it is drawn by a man on bare feet. That was a strong little man, who had learned some English, so I invited him for dinner. He asked me for my plans for next day. I told him I would visit the Parc zoologique Ivoloina located 13 kilometers out of Toamasina. He proposed that I gave him the job, to get me there. I answered him that it was not possible for him to run 26 kilometers with me. He kept on begging me because of the money. I felt bad about that and gave him the tour. He ask for 30 Euro, free lunch and dinner, and we had a deal.




He came to my hotel next morning 6 o`clock, and we started the trip. And again he was very strong, he ran the 13 kilometers in less than 3 hours. I left him ad the entrance with some money, so he could rest and have something to drink. The park is very nice with a botanical garden set on a lovely lake. There is an education centre with breeding programmes for endangered species and a special area for animals being reintroduced to wildlife. Most of the very few tourist that come to the Park every year, are malagasy people. There are more than 100 lemurs from different species present here, a lot of chameleons, frogs, tree boas and tortoises. A lot of special trees and rare plants, it is easy to spend a day in the park. Back at the centre we had a nice lunch, and then on the road to Toamasina. We arrived at seven pm and enjoyed a nice meal together. I gave him 50 Euro and some Ariary, and he was ecstatic. He told me, that with this money he could buy his own Pousse-pousse and start business. So it turned out to be a good decision giving him the job. The last day relaxation with beer and nice food.
DIFFICULT JOURNEY TOO THE FAR NORTH
Now it was time to new adventures,,, AND WAY OVER MY HEAD. I took a taxi-brousse to Soanierana-Ivongo with a stopover, one night at the Foulpointe in Mahavelona. It is a small coastal town with white- sand beaches, overpriced restaurants and a handfull hotel resorts where you can swim safe. Again a lot of sharks, you can actually see them swim around with there fins at the surfers. After another night in Soanierana- Ivongo I found some people also going north. We shared a taxi-brousse. We jumped from potholes to potholes for 5 hours, and it rained hard. In the evening the driver turned and went back to Soanierana-Ivongo. We all stayed the rest of the night in a small Hostel. Next day even harder rain. We tried to find someone willing to take us up north. Every were we got the same answer, it was not possible because of the weather. Heavy rain and thunderstorm made the road impossible to drive and some bridges on the road north was collapsed. All the time with my backpack, everything was wet. I ask them about ferries from the port, again same answer no boats due to the weather, and they expected it to get a lot worse. I gave up, I was very tired, very wet and freezing like a little chicken. I went to the bus station and jumped on a taxi-brousse to Antananarivo. It was an awful tour 8-9 hours. The driver played loud music all night and kept the air con on freezing cold. So when we arrived at the bus station in Tana, I took a taxi to the airport and bought a ticket to Diego Suarez in the tropical north. I needed to see the sun and feel varmth. Few hours later I step out of the plane in sunshine and 30 degrees hot weather, Happy.
TURQUOISE BAYS AND TROPICAL JUNGLE
Antsiranana (Diego Suarez) the capital of the northernmost province Diana, and the fifth largest town in Madagascar, and with the worlds second largest natural bay. Life here is relax and modern. A lot of French people lives in Diego. The climate is mild and with 7 month of dry summer it also attracts tourist. There is an old colonial feeling with wide streets and old buildings from the times of the French settlement. If you want the beach life, there are plenty of nice beaches outside Diego. Many young people come to Diego`s beaches for kite-surfing, but the best attractions are the national park`s in close range.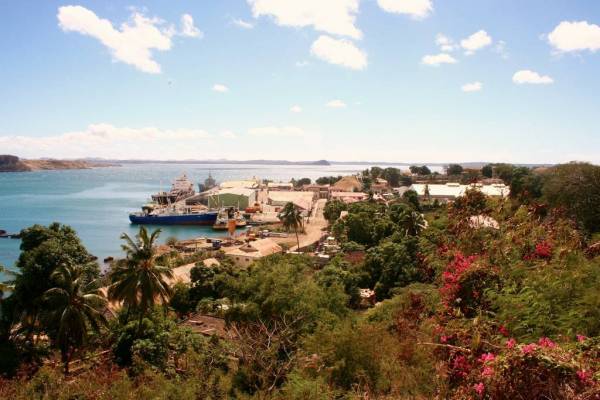 After a couple of days relax in the city with French food and some beers, I was ready for the tree bays. They consist of Pigeons Bay, The Duns`Bay and the Sakalava Bay, and the scenery is stunning, while taking the route trough Sakalava. Beautiful white-sand beaches, turquoise see and with so few tourist that you all most feel that you have everything for your self. If you come for kite-surfing the best place is Baie des Sakalava, one of Madagascar`s top spots for surfing. I stayed for 2 nights, and then back to Diego. My next adventure the Parc National De Montagne D`Ambre 40 kilometers from Diego. I went early morning, and arrived at the camp at 9 o`clock. After settling in my tent I was ready for action. At the gate I met my guide and we started the tour. The Park sits on a volcanic massif. Today the park is a huge tourist attraction, but in 2006 I didn`t see many people and most of them locals. We walked for 6 hours and it was amazing. Volcanic lakes, misty Jungle, spectacular waterfalls and wildlife such as lemurs, chameleon and others. A fantastic day. After a good nights sleep time to do another area of the park. And again beautiful jungles with so much wildlife. I can recommend this national park highly. I arrived in Diego late, and relaxed 2 more days here, before the big finale in the extreme north.
THINGY-THINGY AND MYSTERIES CAVES
Parc Nationale de L`Ankarana. Outherworldly, mysterious, strange, stunningly beautiful and spiritual, those are the words that comes to my mind, when I try to descibe this place. This is one of the absolute most amazing places, I have ever seen anywhere in the world. If you come to the extreme north of Madagascar it is ,,,A MOST DO THING. Parc Nationale De L`Ankarana located 90 km south of Diego was created in 1956 and covers and area of 182,5 km2. Deep Caves and canyons ( the biggest underground network of Africa ) , tropical jungles, limestone fortress of sharp ridges ( Thingy-thingy ),wild rivers and incredible wildlife. The park contains the highest density of primates in the world. Crowned lemurs, sportive lemurs, Sandfords brown lemur is just a few of the species of lemur present in the park. The rare Fossa, reptiles, frogs, giant cave-living crocodiles, chameleons, flying foxes and more than 100 bird species are living in this strange corner of the world. There are Baobab trees, spiny Forrest and more than 350 plants. WELCOME TO FANTASYLAND.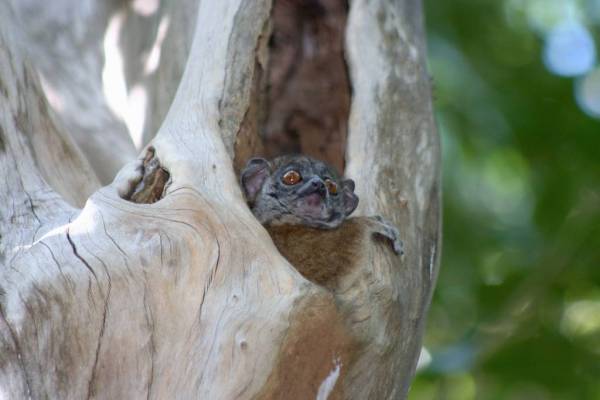 On most of my journeys around the world, my best body Lonely Planet came along. But on this trip to Madagascar it failed for the first time. A lot of the information was wrong. Later on I found out that the bookstore in Denmark, had sold me an older edition. The info about prices, the money and a lot of other important stuff was not correct. I had bought a lot of food and water to Ankarana, because of the information in the book. I started 4 o`clock in the morning at the bus station, and got a seat in the back of the taxi-brousse. When the bus was close to full, we started to drive,,, but the bus drove around town for like 2 hours and collected people and luggage in all sizes and shapes. I developed the closest to claustrophobia ever in my life. Every time we stopped some were I was hanging out of the window trying to breathe. I was very close to give up, when we finally drove out of Diego. It was awful, only half of my body was on the seat, and it was 35 degrees hot. Well, I survived an 12 0`clock we arrived at the parc entrance. Not many tourist here, besides me only a group of 4 people.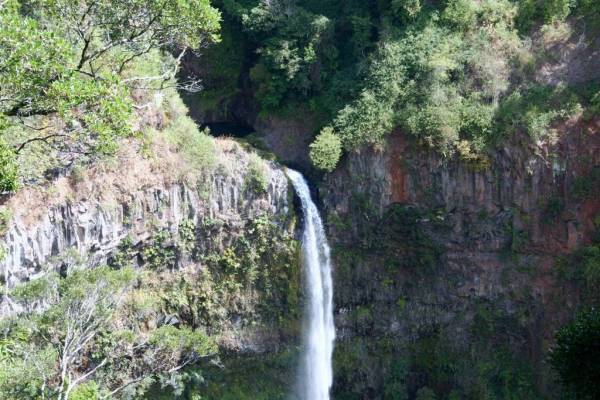 There were small huts on stilt for hire. I got my key and was informed not to go out after sunset whit out shoes because of scorpions, and there where many of them. The hut was only one room with a madras on the floor, and only enough space for my back. Toilet and bath facilities were outside. I had decided to stay here for 4 nights. I made some lunch and then ready for adventure. Next problem, only one certified guide, and the other group had him for the next 3 days. The guide gave me his son, who didn`t speak much English, and my French is all most non existing, but he knew the area like he knew his pocket, so I was in good hands. His father made the plan for the next 3 days, and informed me what I could expect to see and where we would hike the next 3 days. After lunch we went to the nearby canyon, and explored the Grand Thingy and the beautiful lake, Lac Vert. It is a magical place with strange plants and rare animal. The hike trough dense jungle with lemurs and tree chameleon was an adventure. In Lonely planet they inform you to bring all food and water, because you can`t buy anything at the camp. Well back in the camp for the evening, I found out that there actually was a small restaurant where they served food every day.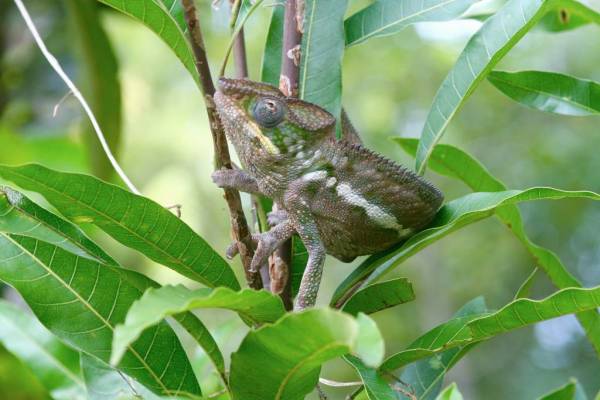 I could have saved my self from carrying food and water. Next morning up early, and on 4x4 to another area of the park. We stopped in Anilotra, and from there 2 km walk to the camping ground. We did the circuit to see caves, d`Andrafiabe and then the spectacular Grotte des Chaves-Souris (Cave of Bates) with amazing stalagmites, thousand's of bats hanging from the walls and big spiders every were,,, and I climbed around in there. The third day again up very early and 4x4 to the Grotte des crocodiles in the south western part of the national park. For this tour I needed my food and water, there is nothing to buy in the park. It is a very sacred place, you have to pay respect here, and what ever you do,,, Don`t have sex in the caves. The crocodile cave is sacred, the locals believe, that men and crocks are connected. These caves is the only place on earth, were the crocodiles lives in caves. The last day I spend in the area around the camp walking in the Thingy-thingy. In the evening walking back trough the jungle, I had a strange experience. Suddenly a huge crock passed me and disappeared in to the jungle. I was a little chocked, when I came back to the camp. The old guide told me, that it was because the lakes dry out in the end of the dry season and forcing the crocodiles to hunt in the jungle. In the evening I met a couple from France heading the same direction as me, the Island Nosy Be. We decided to take a 4x4, and share cost. Next morning on the road, and a pleasant one. We passed trough small villages, Savannas and crossed lakes on small bridges. In the afternoon we stopped at a cocoa plantation. In Madagascar they grow some of the best chocolate in the world. We arrived at the ferry port Ankify late afternoon, and less than an hour later on Nosy Be.
THE BEAUTIFUL ISLANDS
Nosy Be ( Big Island ) or Perfumed Islands is the main Islands in the small archipelago, which include Nosy Komba, Nosy Sakatia, Nosy Tanikely and the Mitsio Islands. The capital Hell-Ville named after the French Admiral Anne Chrètien Louis de Hell. Nosy Be is the perfect tropical paradise with stunning white sand-palmfriged beaches, lush jungle, volcanoes, beautiful lakes and the perfect sunsets from the peaks. The Island are famous for Pepper, vanilla, chocolate and ylang-ylang used in the worlds most expensive perfume's. It is located in the northwest corner of Madagascar, and easy reached either by plane 1 hour from Tana or by boat from Ankify less than an hour. The Island is about 120 sq mi, holds eleven volcanic crater lakes and the highest peak Mont Lokobe at 450 m above see level. Animal life includes Tree Boa, one of the worlds smallest frogs, many chameleons and off course lemurs. If you come for diving, it is a underworld paradise, with breathtaking corals, Whalesharks, Mantarays, different species of sharks and turtles on almost every dive. And best of all the climate, it is warm and sunny year around.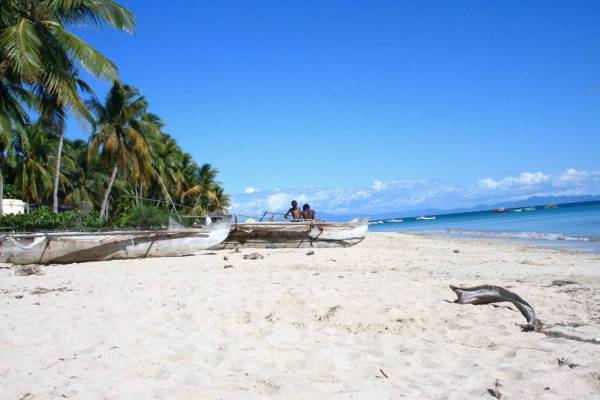 Welcome to Nosy Be. I found a small room in a hostel behind the beach in the popular Ambatoloaka. In the evening I had dinner with my friends from France, they had planned a sailing trip for 4 days around the Islands. Next day I went to the north western part of Nosy Be to visit Reserve Naturelle Integrale de Lokobe. To get here I first took a taxi to the sandy, backwater village of Ambatozavavy, and then an outrigger piroque to the beach village Ampasipohy. We had to paddle around the southeast extremity of the Island. It is very difficult to get here but worth the effort. The park is categorized strict area, because of a very unique ecosystem, and it is closed for any kind of human exploitation, except studies. I hired a guide and explored the park. I had the pleasant of many species, and we had close contact with the black lemurs and the Nosy Be sportive lemurs stairing at us from the trees. I saw panther chameleons, tree Boas, frogs and lizards. The afternoon I spend in the village together with the locals. I can highly recommend visiting this national park.
ROLINE ROLINE
The evening I went to a small bar, where I mat the beautiful woman Roline, who came to play a major change in my life. Roline became my girlfriend for the last tree week of my trip. Every morning she left me, for working at the marked and came back in the evening. Well I went to the beach ,,, and what a nice beach, with fishermen around there boats and women carrying baskets with fruit on there heads.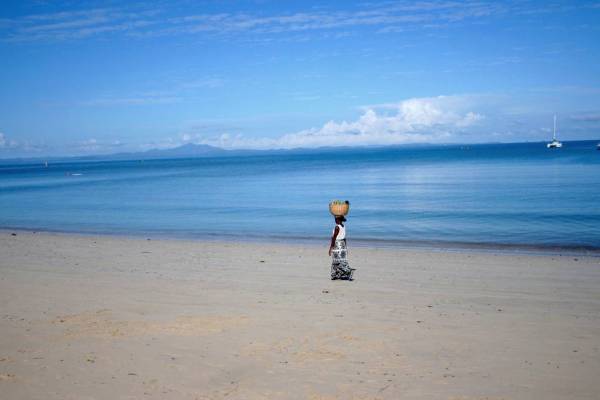 Ambatolouka and Madiokely is actually just one pretty stretch of beach connecting the two villages. It is the most popular place to stay on the Island, due to the selection of accommodations, bars, restaurants and discoteque. It also were you find the best dive centers. I had my firs 2 dives in Great Barrier Reef in Australia 1989, and got my license 2 years later in Thailand. I love scuba diving, and been to some of the best dive sites in the world. I knew that this place offers some excellent diving, and I looked for option's. In Madiokely I mat Alex, the owner of Adventure dive, we had good chemistry, and I booked 2 dive for the next day. Diving in Madagascar, Nosy Be is really fantastic, at my first dive I had 3 turtles, a lot of fish and gorgeous corals. I became friends with Alex, and had 12 dive together with him for the next 2 weeks. If you like sharks, Manta Rays and whale sharks, you will not be disappointed,,, off course depending at the season.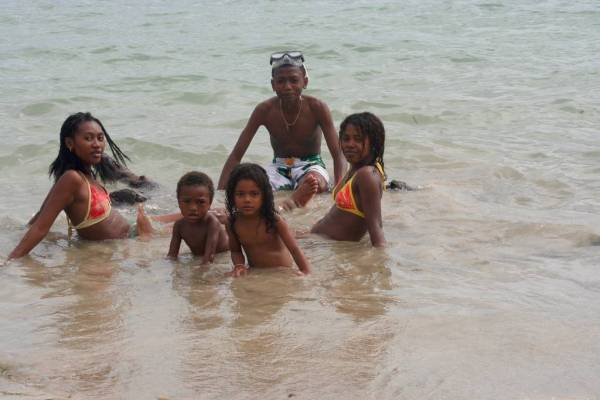 Roline came to me every evening at dinner time. She didn`t speak any French or English, only Malagasy so communication was limited. I really liked here, and we found a way. I rented an off road motorbike, and we drove to the north of the Island in the weekends. Andilana is the most pretty beach in Madagascar, with exclusive resorts and the best see food on the Island, served at the restaurant Chez Loulou. The secluded location makes it a little difficult to get here, so there aren`t many tourist. We enjoyed nice see food with white wine, the beautiful beach and each other for the weekend. For the rest of my stay at Nosy Be I kept the motorbike and explored the Island. My vacation came to an end, and Roline was very sad. I told here that i would come back in 3 month. I knew I had 18 days vacation from work in November, so I decided to come back to Roline. I left her with enough money, for food and what else she needed. I went back to Denmark for 3 month working.
BACK TO ROLINE AND A BIG DECISION.
At the end of November I was back in Madagascar and together with Roline again. Roline asked me to come to her house. I went there in the afternoon, and I was not prepared for this. Roline lived in a very tiny hut, built on stilt in a village outside Madiokely. And on a tiny mattress there was a little girl and an older woman,,, her daughter and her mother. I was surprised, and at that moment, when that little girl looked at me with her big brown eyes, I knew that I had to take care of them. Life in Madagascar is very hard, and not easy for a single mother. I invited them all for dinner, and when we left the hut, her daughter ( Osinie ) grab my hand like the most natural thing in the world.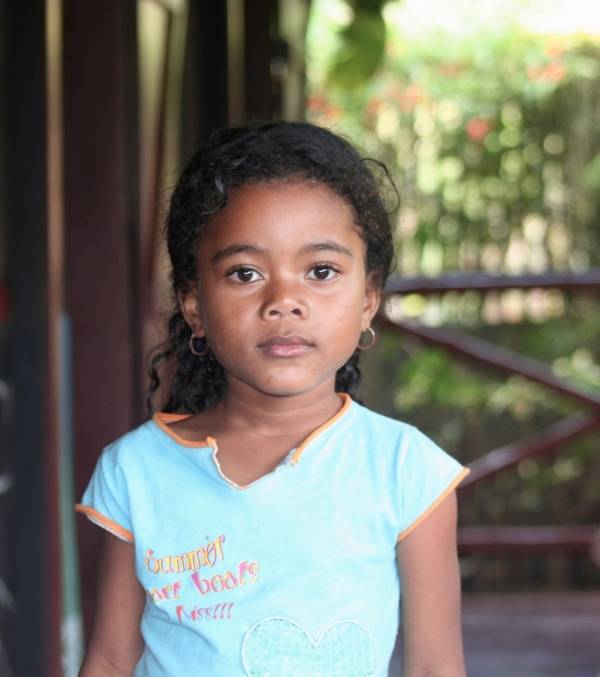 Another surprise was Roline speaking a little English. She told me, that since I left, she went to the local priest every day, for learning English. I was truly amazed, over the years she has kept surprising me, and today she speaks English and French. I have since 2006 send around 300 dollars every month, and today she own her house, and her daughter is in school and doing very good. Next day we went to see her cousin's and there families. It was fantastic to experience the every day life in Madagascar, and again I invited everybody for pizza in the evening. I rented an apartment so Roline and her daughter could stay with me. The rest of my vacation I spend on diving with Alex, Explored the Island and enjoying my time with Roline and Osinie. Especially diving with whale sharks was fantastic. I had one dive with a huge whale sharks for like 4-5 minuttes, and a couple of snorkling trips also with whale sharks. On my dives we encountered Grey sharks, Leopard sharks and many turtles. All good things comes to an end and after 18 days, it was time to go home to Denmark.

SUMMERY

If you are looking for the ultimately adventure go to Madagascar.
You will see nature and animals you not even dreamt about.
Wild adventure, Treasure Islands, breathtaking jungles, stunning beaches,
and beautiful curios people.
MADAGASCAR HAS IT ALL, ALTHOUGH NOTHING COMES EASY.
BUT IF YOU WORK FOR IT, YOU WILL BE AMAZED.