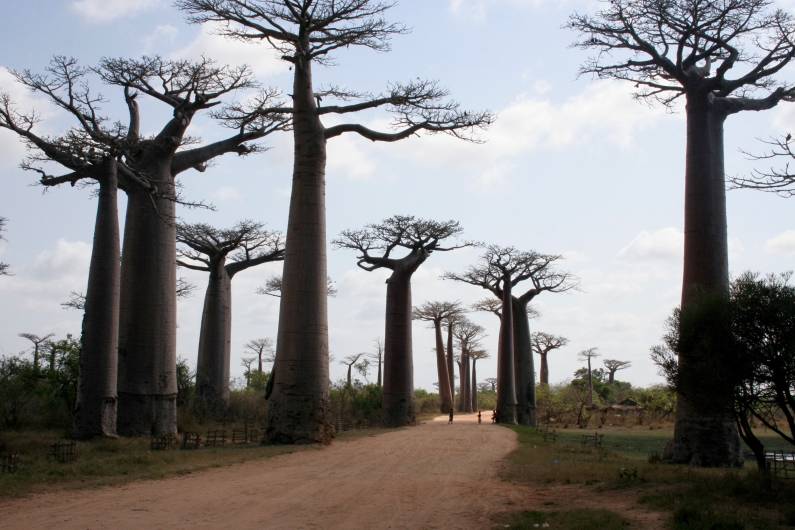 MADAGASCAR 2012
In 2012 I went on my fifth tour back to Madagascar, two month for new adventures. This time my plan was off course to visit Roline an Ocinie on Nosy Be, a stopover at Mauritius and then travel down the west coast from Morondave to Toliere in the south. And what an adventure. Madagascar is the ultimate travel destination, if you are looking for a real adventure. The Island often referred to as the eight continent, broke away from Africa 88 million years ago. The first people came 2000 BC from Borneo in outrigger canoes, then East Africans and today it is a melting pot of people from Asia, Europe and Africa. Live here has evolved completely different than the rest of the world. Around 5% of all species on earth lives in Madagascar, more than 80% of animal and plant life is endemic, only in Madagascar. Lemurs, Chameleons, Nile crocodiles and so much more. For divers paradise lies below the surfers with Humpback Whales, gigantic Manta rays, the gentle Whale shark, ships Wrecks and the forth largest Coral Reef in the world. With mountains, volcanoes, wild rivers, lakes, pristine jungles, mysteries grottoes, palm fringed white-sand beaches and postcard pretty Islands you have all possibility of a fantastic adventure. Madagascar is very poor, and the farming and catteling has made its impact on the nature. Today only 9 % of the Forrest remain, and a lot of species in trees, plants and animals has disappeared or endangered. In Madagascar you have to work hard, but if you are ready you will be amazed with a truly unique adventure.
THE BAY WITHOUT END
My first stop was Mauritius one week in Grand Baie. Mauritius, Rodriques, Reunion and a couple of others is all part of the Mascarene Islands. The location in the Indian ocean close to Madagascar, approximately 2000 kilometres off the Africa's east coast, makes the climate warm and nice year around. It is a formerly Dutch colony, and later on British until they became independent in 1968. The capital is Port Louis and 1,3 million people live in Mauritius. The population is a mix of Creole, Chinese, Indian and Europeans. Vernacular languages is Mauritian Creole, French, Indian and English. Religion Hinduism, Christianity, Islam and Buddhism. Mauritius is a dream destination with stunning beautiful beaches, clear emerald waters, amazing Nature, some of the best bird life in the world. And not to mention the underwater life with whales, dolphins, turtles and beautiful corals, a divers paradise. The Island attracts Couples from all over the world, for there honeymoon or just some romance, but also adventurer, sailors and surfers find the action worth while. Mark Twain described it: MAURITIUS WAS MADE FIRST, AND THEN HEAVEN . HEAVEN BEING COPIED AFTER MAURITIUS.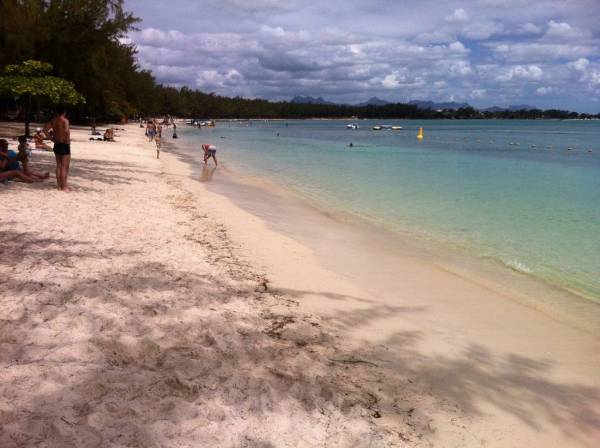 I am single, so for me an easy choice, I wanted to stay in Grand Baie, close to restaurants, bars and nightlife. I found a nice hotel on the beach, close to the centre, Ocean Villas. After settling, I rented a bike and started exploring the beaches around. There are so many beaches like Merville and Pereybere beach, but the first day Grand Baie beach for sun and relaxation. The evening nice seafood in Grand Baie. The next couple of days I enjoyed the other perfect beaches in close range. The forth day I went on an Island excursion with a catamaran to the postcard pretty Flat Island.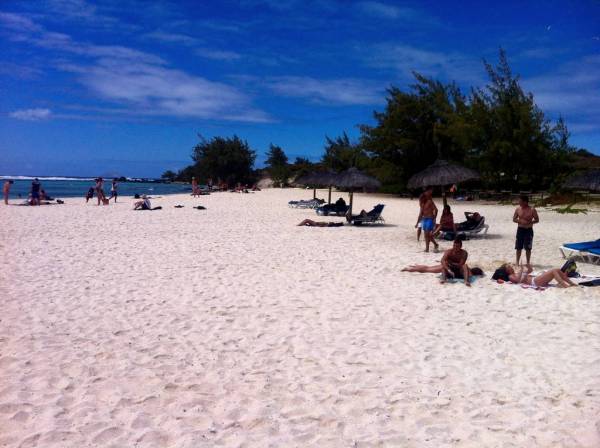 Very funny, drinks and dance on the way to some very nice Islands. The staff makes it a big party with loud music and entertainment. Well on Flat Island nice lunch, at what better than seafood and a cool beer. The rest of the day swimming and sunbathing in this little paradise Island. The evening I decided to stay in the bar at my hotel. I mat the beautiful, intelligent Diana from Wales. She was sitting alone in the bar, and looked a little sad. I asked her if she wanted my company, and she asked me, why did you wait so long. She had spotted me right from when I arrived at the hotel the first day. Diana is a Doctor on vacation in Mauritius, but also with a business purpose. She wanted to invest some of her money, building vacation houses for rent. We liked each other and spend the next two days together. First choice a trip to the capital Port Louis. The capital of Mauritius with around 150 thousand citizen, is the cultural, economic and political centre. We went to Le Caudan Waterfront for lunch and shopping, later on white wine at the marina. The afternoon at the central market. I love markets, it is always fun, to see the locals selling there products. The evening a little romance and fancy dinner. The last day we went to a marked in Grand Baie for gold and pearls. Diana bought some beautiful jewellery. Romance, dinner and wine in the evening. Next morning goodbye and on a plane to Madagascar and Roline.
TWO WEEKS WITH ROLINE AND OCINIE
Nosy Bee is like a second home to me, and Roline and Ocinie my family. But this time I was not sure what to expect, I had lost contact with Roline several month ago. I was very worried for Roline and Ocinie. I have send money to Roline every month since 2006, where I bought her a mobil. I told her that it was very important to keep my number and stay in contact. I went to the village where she lived, but she had moved to another place. No one knew where she lived. so I went around in the neighborhood and asked people if they knew where to find her. I was lucky to find a French guy married to a Malagasy woman, who knew Roline. I waited in there house, while she found Roline for me. Roline had burglary and lost money and her Mobil. She was so happy and I was eased. We went to my hotel, and she told me she was sick, from rat bites. She had big inflamed boils on her breasts. The local doctor had told her, to go Antananarivo for treatment, but she could not afford it. It was in the last minute I found her. I gave her money and bought her a bus ticket to Antananarivo for the next morning. The evening her sister cooked chicken for us, and what a bad choice. I got salmonella poisoning and was sick for a hole week. I could not eat, only drink water. The woman at the hotel, got more and more worried for me, and called a doctor. Well, after a week I started to fell better, and Roline was threaten with penicillin and fine again. After a rough start I could enjoy my vacation. It was my fifth time in Nosy Bee, and I have over the years become friends with Alex, the owner of Adventure Dive center. Every time I come back, I go to Alex and rent one of his off road motorbikes, and plan some diving with him. Off road motorbikes are the best way to see the Island, because of the lack of roads and infrastructure. I love diving, so to me Nosy Be is awesome, the beaches are amongst the best in Madagascar, the nature amazing, and a perfect clime. Although every thing is twice as expensive as the rest of Madagascar, especially Andilana beach with very luxury accommodation, and the Islands best seafood at Chez Lulu. The days I spend diving around Nosy Be and together with Roline and her family. Roline and I also spend three days on the Island Nosy Komba, a picture perfect Island only a short sailing from Nosy Be.




It was also nice to see how Roline tries to improve her live, she had invested some of the money I send every month, in a little clothing shop made of wood, next to the street in Hell Ville city center. Maybe a shop is to mush to call it, actually it is only a little open booth on stillt next to the road. She also bought a piece of land in a small village close to Hell Ville. The evening at Nosy Be together with Roline and Ocinie. The last evening dinner with Alex and his wife at his house. After two weeks it was time for new adventures.
THE TREES WITH ROOTS AGAINST THE SKY
First a plane to Antananarivo, then a plane to Morondava. Morondave is a laid back town with only 38 thousand people next to a wide beach. There is not much to do, but it is the perfect place for exploring the Parc National des Thingy de Bemaraha, Reserve Forestiere de Kirindy and the Iconic Baobab Alley. I had booked a nice room in a pretty settings next to the wide beach. The first day walking on the beach, enjoying all the activities from the locals, I mat a nice Malagasy woman.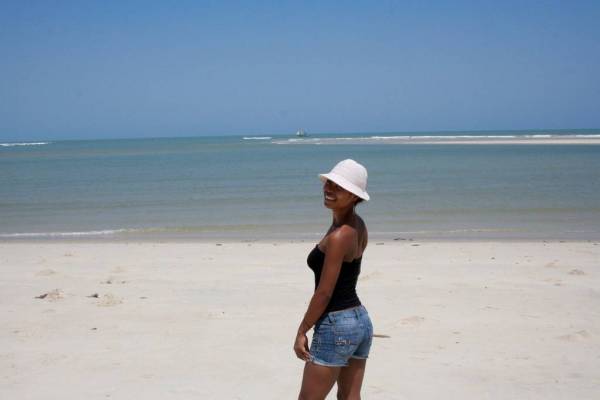 We became friends, and she showed me the area the next two days. I invited her to Join me for the the next couple of days day, exploring the attractions around. I had decided to skip Parc National des Thingy de Bemaraha, because I already seen the Thingy-Thingy in more natural surroundings in North Madagascar. The transport next morning a taxi to the iconic Allleè des Baobab, the most photographed spot in all of Madagascar, and especially beautiful in the evening at sunset. Baobab Alley consist of some 20-25 Baobab trees, and between 20-25 nearby, they are about 30 metres in height, and around 800 years old.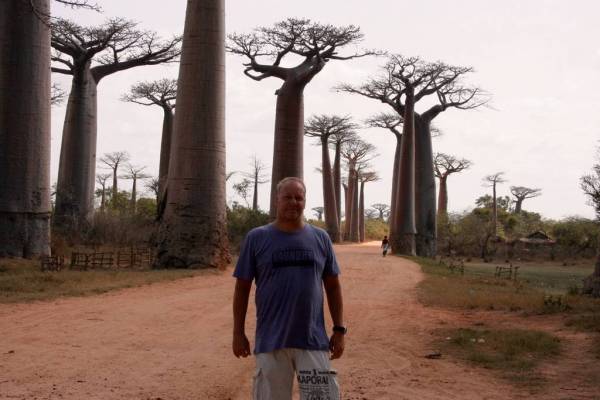 The avenue close to Morondava is the most visited place by tourist in Madagascar, but I didn`t meet any, only locals. Because of the unique, strange look, they call it the tree with roots against heaven. We had a nice day together, interacting with locals around, and delicious dinner in the evening back in Morondava. Then we went to Reserve Forestiere de Kirindy, with an overnight stay in the resort in the National Park. It was fun many Lemurs, Chameleons and the rare elusive Fossa. The Fossa came close to the resort, to steal food, and inside the resort a couple of Mouse Lemurs had made there home.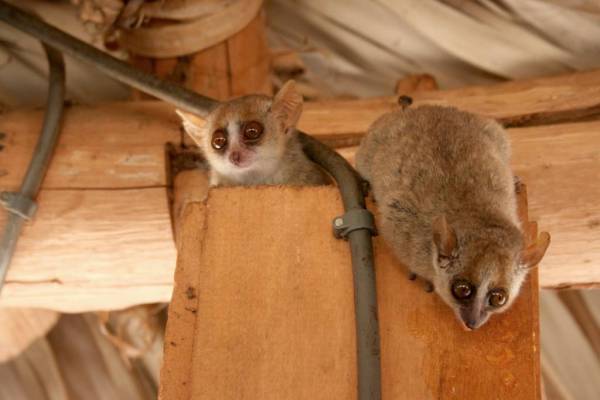 Next morning back to Morondava for a last night. While I was in Morondava, I was looking for a comfortable transport to Toliere in the south, and it is not easy. All most everybody either backtrack to Majunga, take a plane or 4x4 wheel drive for three days in rough terrain. I had been asking around, and made a deal with a fisherman, going with him and his cousin in his piroque, all the way along the coral sea to Toliere, with some stopovers. The price 400 dollars, the same as the price for building a piroque, but still a fair price compare to other options. Like all my other trips to Madagascar,,,Nothing Comes Easy ,,,
TOUGH TRAVEL IN A PIROQUE
We started very early morning 4 o`clock in the small port. Let me tell you, it is hard work to sail in a piroque, and you sit on a small stick for many hours every day. The first day at sea was a nightmare, my back and behind hurts because of the uncomfortable seats.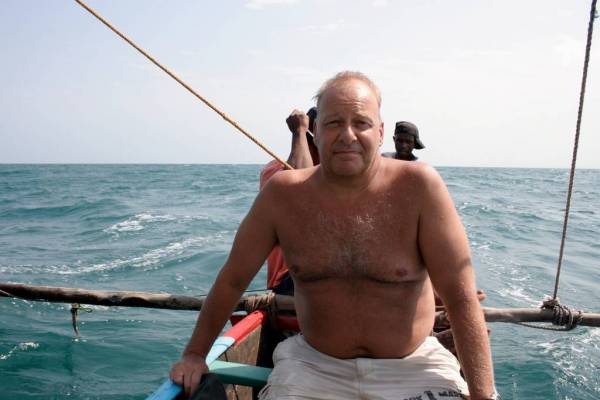 In the early afternoon we reached Ankevo sur Mer, located half the way between Morondava and Belo sur Mer. It is a pretty little fishing village with a perfect beach, and nice friendly local people. Not many people visit this small fishing communities, and when the children saw me, they got scared and run crying to there mothers. Well, they found out that I was peaceful and funny, so we became friends. I rented a tiny hut whit out toilet or shower. When you have to do your thing, it is like the dogs, behind the hut in the sand. They don`t waste freshwater cleaning, so you have a greasy felling on your body because of washing in the saltwater. In the evening I eat fish together with the captain and his cousin, and had some beer with the local fishermen. The biggest problem with Madagascar is the language and the lack of infrastructure. Most Malagasy people speak Malagasy, and some of them French, but only very few speak English. My French is limited to words and few sentences so sometimes all most no communication.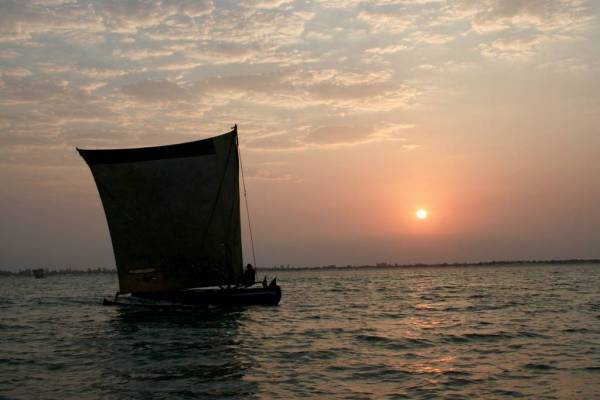 Next morning we sailed out in the sunrise and a beautiful day at the sea. I was slowly getting use to the uncomfortable seat, and enjoyed the trip. In the afternoon we reached Belo sur Mer our home for the next tree days. Belo sur Mer a little town with around 8000 people, is a part of Menabe Region in the Morondava district. The little vezu village is slowly becoming a tourist attraction for divers, with nine offshore Islands. The village lies in a small lagoon with a beautiful beach. The village is famous for ship-building, and still today they make the ships as they have done for centuries. It take 5-6 year to built a cargo vessel. The village is a real far and away experience. A trip to Belo sur Mer can be arrange from Morondava in fast speedboats 2-4 hours, or by tough drive in 4x4 wheel jeeps on organized tours. But for me it was a pleasant stopover on the way to Toliere. Here I met a nice young couple from Canada, and together we explored some of the Islands offshore in my rented piroque, snorkel and enjoying the beautiful beaches.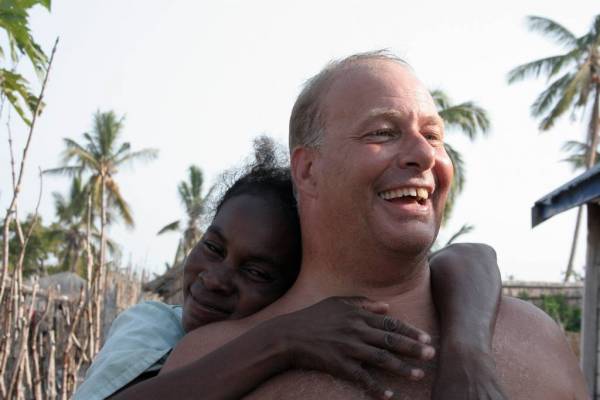 One afternoon walking around in the village, suddenly a local woman just grabbed me. She had decided that I was her big love.A really funny moment, everybody was laughing including the locals. Well I escaped. After three day it was time to move on. My new friends from Canada was also on the way to toliere, and joined me in my piroque, and charred some of the cost with me. Again tough time at the sea, but now with English speaking company. And again in the afternoon a stop for the night, at a very small fishing village with only a few aviable huts for rent. Now we were really fare away, the huts is normally used for fishermen passing by. In the evening our captain made us fish, we had caught on the way. They just put a line in the water when sailing, and he caught some fish on the way. We actually had a big tuna on the hug, but his cousin had been drinking the day before, so he was not ready with the fork, and we lost it.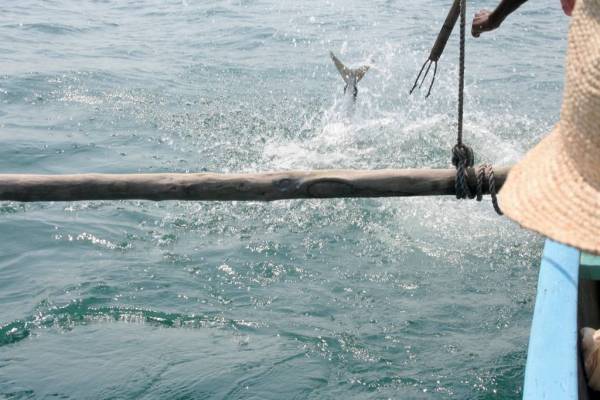 Again some fun with the kids around. In the start they were very afraid, but after a little while, there curiosity made them come closer. Next morning same routine, and on the sea all day until we reached Morombe. Every time a new village, curios kids and friendly fisher folk. Then next morning we ran into problems, after a couple of hours, just before entering the channel, no more wind. We had to turn back to Morombe. The fishermen told us that it could take days before we could pass through the channel, because the lack of wind. The channel is a passage between a lot of Island with corals around, the passage is narrow and difficult to go through if wind and sea isn`t right. We had to decide if we were to wait for the conditions to improve, or find another kind of transportation. After talking with some of the locals, we decided to take a small car to Andavadoaka. The captain told us that he would meet us there in two to three days, so we could continue to Toliere.
THOUGH ROADS
In 2007 traveling in Africa I mat a Italian woman, working as a volunteer doctor occasionally in Andavadoaka. The Italians have build a small hospital in the village, so the locals can get Medicare for free. She also told me that the beach was stunning with nice bar life around. I wanted to visit the hospital making a small donation, and explore this place. Andavadoaka is a small fishing village in the area of Morombe in a small lagoon, protected from the ocean by a series of barrier reefs. It is like the other village on the way, home to the vezo fishing people. For divers it is a heaven with corals and the highest diversity of species in Southwest Madagascar. The present of Blue Ventures and there work, aiming to improve the community and promote the substainable management of marine resources. The only villages with electricity, makes it a comfortable place to be, with hotels, restaurants, and the beach are stunningly beautiful.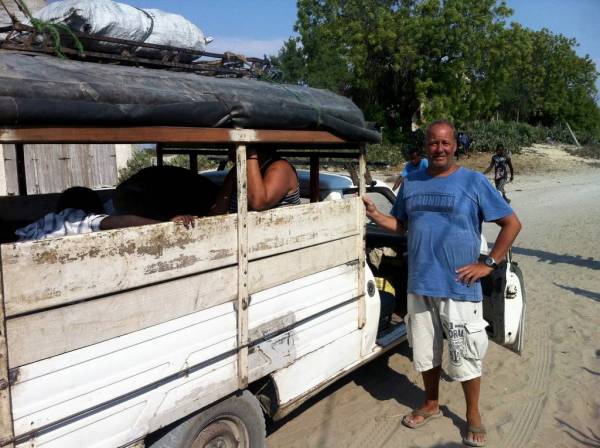 The drive to get to Andavadoaka is rough and no roads, through spiny forest with strange vegetation and dry dessert. Sometimes when you travel in Madagascar, you get the feeling, that you are on another planet. In the evening we entered Andavadoaka, and accommodated us in a cozy little hotel next to the beach. In the morning I visited the Italian hospital, gave a little donation and told the staff that I knew Steffanie, who had work there twice. It is impressive how they take care of the locals, and they are well resourced for a hospital that remote. The afternoon bonding with the locals and for three days relaxation on the beach.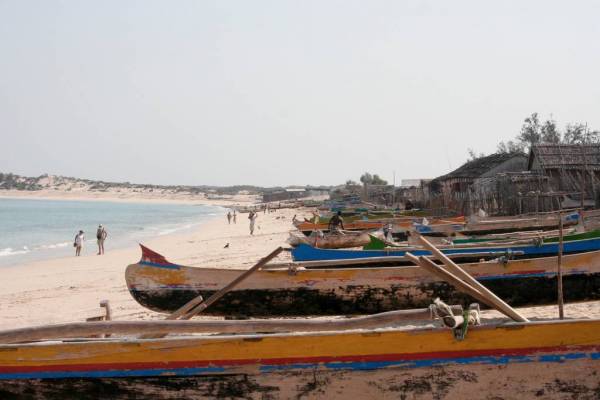 After three days we finally realized that the fisherman would`t show up, we were abandoned. But later on I found out, that it has happened to other tourist to, choosing this kind of transportation. Well I was lucky having my friends from Canada speaking French. They organized for us to get a lift out of Andavadoaka in 4x4 wheel drive by some French tourist. Otherwise we had to wait another two days for the next bus out. They gave us a lift to the nearest village with a public transport to Toliere. It was a stunning drive passing Baobab Forrest, Spiny Forrest and lakes coloured in red due to a special Algae. We drove all night and next morning 4 am we arrived in Manombo, and they all ready start loading the bus for the 12 hour drive to Toliere. We bought ticket and found some aviable seats in the bus.




It is like nothing I seen anywhere in the world, these guys know how to pack, all space was filled with rice, fish diesel ,bikes, water every thing imaginable. Local people, armed guards and three crazy tourist, with no clue on, what to expect. The guards is heavily armed because, sometimes gangs will try to overtake the bus. It is dangerous and sometimes they kill passenger's.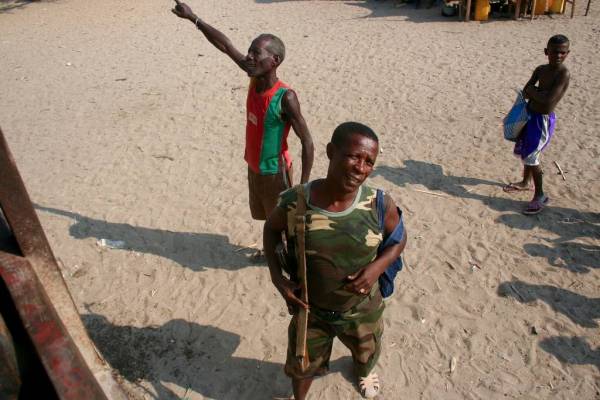 I thought that my trip so fare had been rough, but this bus drive take the price as the worst kind of transport ever. We drove through dessert along side the ocean, and stopped in all the fishing village on the way. And same thing again, off and on loading products to the villagers.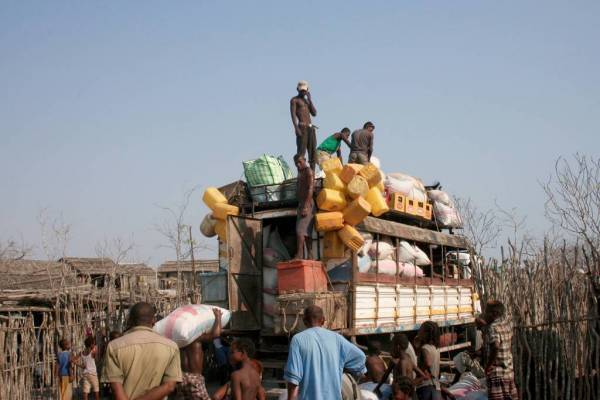 We reached Toliere 12 pm, and had to wait for the driver to find us a taxi. After 8 pm you don`t go by your self in Toliere, it is one of most dangerous town in Madagascar. You will be stopped, and if you don`t give them what they want, they will for sure beat you up or kill you. He found us a taxi after an hour or so, and we stayed the night in a little hostel in the city center. I smelled of fish and diesel, I have never been so dirty and tired before in my life. I thought I never get clean again, but after a long long shower, I was ready for bed.
THE WILD WILD WEST
Next morning I went for break first in Toliere city center together with my friends from Canada. Here I mat Franck, a Frenchman who lived here and made his living by tourist. I asked him about prices on car hire and the National Parc Isalo. He told me that it was not safe, going by my self in a car. I made a good deal with him, rent his car and pay his driver to take me there and back. My Canadian friends wanted to come along, so we shared cost again. So next day on the road again. First stop Ilakaka ( The Wild West Of Madagascar ), people with guns, prostitution, gangsters and casinos, this could easy be the scene of a movie. In the early 1990s only 40 people lived here, but the discovery of the largest known Alluvial Sapphire in 1998 the population has grown to nearly 60,000 in 2005. A lot of people seek fortune searching for Sapphire in the area, although most people get exploited by gangsters and companies in there pursuit of happiness. Today Ilakaka is the Sapphire capital of the world, and supply nearly 50% of all sapphires in the world. It is a dangerous city after sunset, but we stopped to visit shops, selling Sapphires and a lunch before Isalo
MADAGASCAR`S GRAND CANYON
Isalo National Parc is by far the most visited protected area in Madagascar, due to the closeness to RN7. The road are amongst the best in all of Madagascar. About 700 kilometres from Tana 15 hours and 250 kilometres from Tuleare 4 hours by car.The Isalo Massif is a continental sandstone plateau, from the Jurassic times. Isalo often referred as the Jurassic park. The park protects 815 km2 of sandstone massif eroded by rain and wind, spectacular canyons and deep gorges, national pools and remote grottoes. World class hiking with various trails in strange landscapes.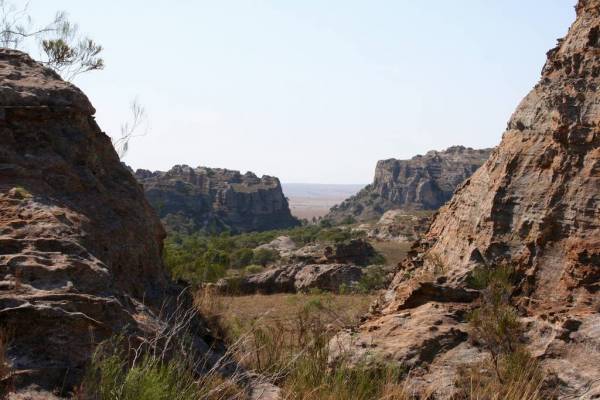 The flora is very interesting with several endemic species like the strange elephants foot, different aloa species and rare palms. There are 80 species of birds, different kind of lemurs including dancing Verreaux sifakas, nocturnal lemurs and curios ring-tailed lemurs, not to mention Chameleons, reptiles and endemic frogs. The afternoon we hiked for around three hours around the trail Canyon des Rats, and enjoyed the breathaking sunset over the canyon. The night we spend in the marvelous Isalo Rock Lodge, expensive but fantastic. Next day up early, and after a nice break first we started the hike at The Canyon des Singes (Canyon of Monkeys`)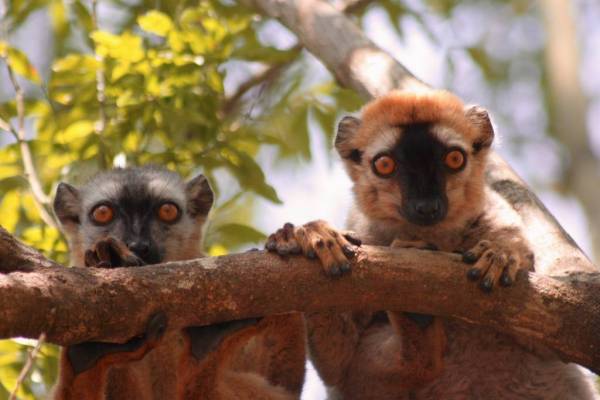 We walked trough strange terrain from deep gorges with dense vegetation to a waterfall with a natural pool where we could go swimming. Here we had lunch and interacting with the curios lemurs, trying to steal our food. The afternoon back to Tuliere and goodbye dinner with my friends and Franck and Julie. Next day I moved in to Francks`place. Frank has a big peace of land with his house, and a separate home stay with 3 bedrooms and shared bad/kitchen facilities. It was just finished, and I was his first guest. Next morning Julie made us break first, and I met his 2 tame lemurs, and just like in the national park, they tryed to steal my food, and made fun with the cat and dog.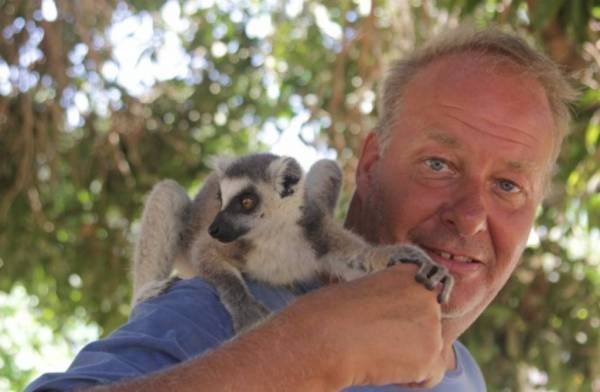 They really are very funny creatures. Franck showed me around in Tuliere, and proposed me to go with him, Julie and Julie`s sister Florianne to Anakao the next day. Next morning we went to a small pier all together, and here we mat Brendan a tourist from London. Brendan is a funny guy, like me he has travelled the world. But what I have learned over the years is, when you find something nice or pleasant, stay and enjoy the tranquility while it last. Brendan was different, he keep moving and have difficult to decide on what to do, or just to relax in a nice place. Well I talked him in to join us, and we all went. It was low tide so we had a ride on a oxcart to the speedboat. You can drive all the way, but the 40 kilometres on very poor roads, takes a lot longer time, so the speedboat is best option. After an hour sailing we reach the shore of a breathtaking beautiful beach.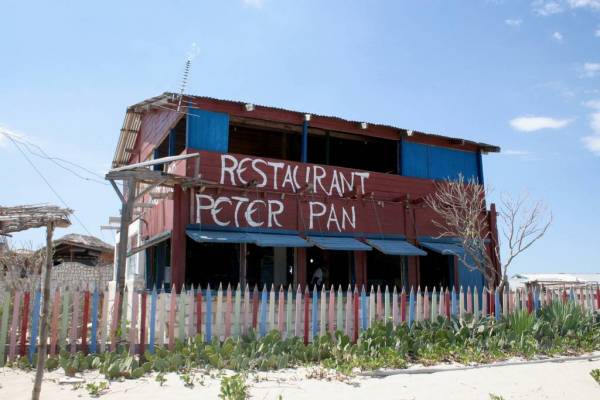 Franck has been here with tourist before, so he know the best hotel deal around. We booked bungalows right on the beautiful beach for 4 nights and then ready for serious beach life. Anakao is the largest vezu fishing communities in Madagascar, and every morning you can watch the spectacle, when all the fishermen sail out in there piroques in the morning mist. The owner a young gay guy found this place travelling around in Madagascar. He named The hotel Peter Pan after his favorite Disney figure from his childhood. He was from London living a though life addicted to drugs, and very close to die of a overdose. After that he took a decision to travel and get away from this kind of life, and as he said,,, It saved my life. At the hotel we also mat 2 older ladies from England, a crazy funny Japanese guy and a French dive instructor. We were a strange group, but we became like a little family. Especially the evening a lot of fun drinking and dancing, the 2 old ladies smoking hash, weird. Florianne and I became lovers, and it was a fantastic time.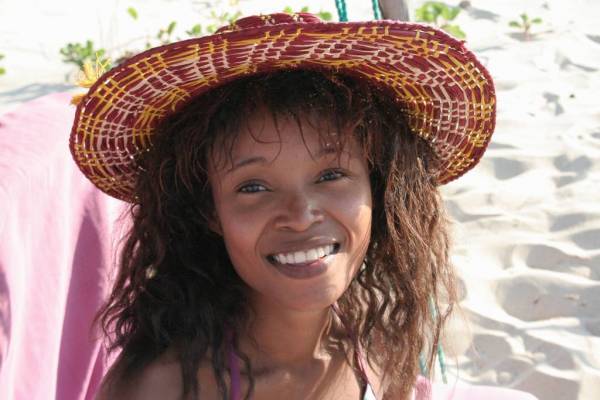 Florianne is a stunning beautiful Malagasy woman, and so full of life. One of the days Florianne, Julie, Franck and I hired a local to sail us to a deserted Island offshore. Perfect white sand and the Robinson Crusoe experience, because we had the Island to our self. Back in Toliere Brendan and I stayed in Franck`s home stay. The evening dinner with Julie, Floriane, Franck and Brendan. Again next morning up early Franck, Brendan and I went to Ifaty/Mangily beach on a day trip.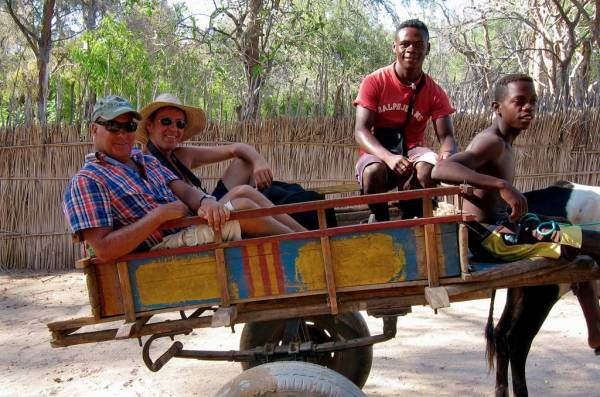 Ifaty and Mangily are two separate villages chares the same 3 kilometre stretch of sand. Ifaty always the village mentioned, but the dunes of Ifaty is actually in Mangily. It is only 27 km north of Tuleare and the beach isn`t as beautiful as in Anakao, but there is a small rewarded Spiny Forrest. We arrived at lunch time, so time to fresh seafood and some beers.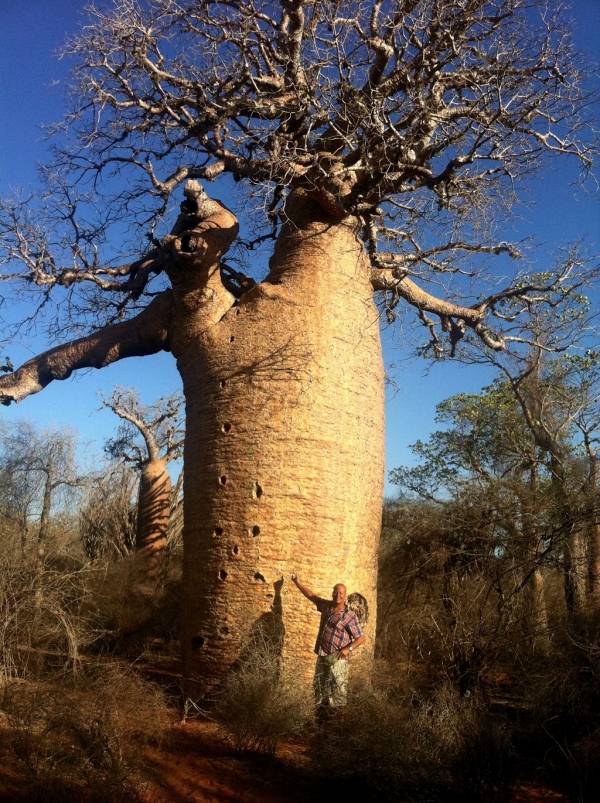 After lunch 1 hour massage at the beach, and then with a oxcart around the spiny Forrest, with stop at some of the more than 500 years old Baobab trees. The landscape again is like another planet, and the bird life amazing. The afternoon back to Toliere for my last evening in the south, my journey had come to an end. The evening I said farewell to all my new friends and Florianne. I had one day in Tana, my plane back to Europe was next day. I mat a young guy Sam, and spend the day at the marked close to the airport with him.

Summery:

Madagascar keep surprising me. Even after 5 times I haven`t seen it all.
If your looking for the ultimate adventure, go to Madagascar.
Like nothing you have seen before.